Exhibition News
» China International Jewelry & Gem Fair 2020 Schedule Confirmed
China International Jewelry & Gem Fair 2020
Schedule Confirmed
Distinguished exhibitors, partners and visitors from all walks of life:
With the unified deployment of the state and the joint efforts of the people of the country, China has made phased progress in the prevention and control of the coronavirus. The epidemic has been effectively controlled, and the current situation is developing well.
After communication with relevant departments and consideration of environmental safety for exhibitors and visitors, the organizing committee hereby announces the following decisions:
China International Jewelry & Gem Fair 2020, which is originally scheduled to be held during April 9th-12th, 2020 will be extended to June 19th -22nd, 2020. The fair will still be held at China International Exhibition Center (No. 6, East Beisanhuan Road, Chaoyang District, Beijing, China).
We sincerely thank all the exhibitors, visitors and relevant personnel for your great support to the exhibition. The previous exhibitions have gained success with your active participation. We feel sorry for the inconvenience and the delay caused by the epidemic. The organizing committee will make every effort to prepare for the coming exhibitions, and will continue to present grand events for the industry. Thank you for your understanding.
We wish you and your family be safe and healthy!
Beijing Haiming Huibo Exhibition Co., Ltd
March 19th, 2020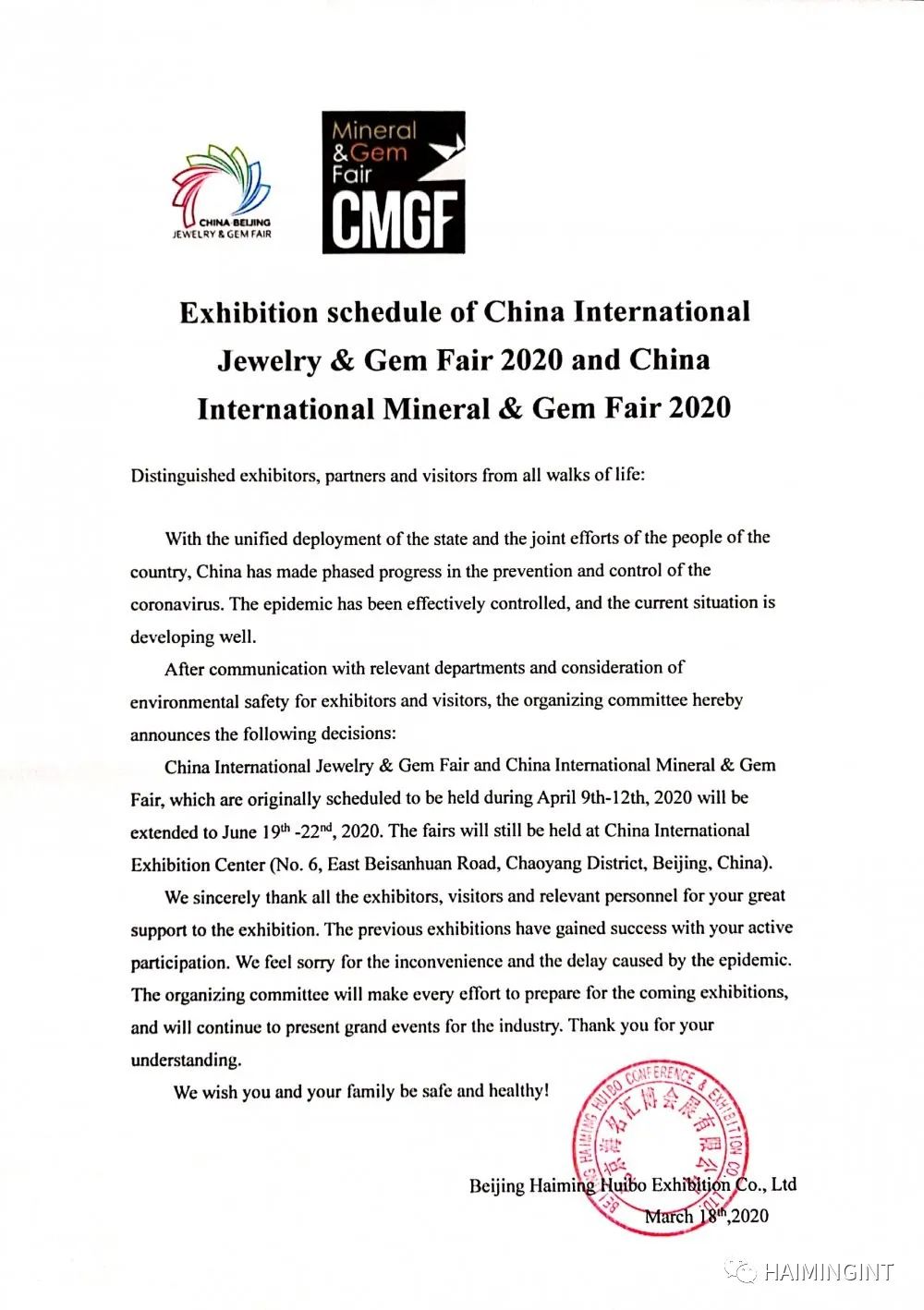 Countdown to the event
Days
Industry News
Related Links
Show Plan