Shanghai International High-end Colored Gems Fair 2019

With the improvement of people's living standard and the transformation and upgrading of consumption, jewelry lovers always want to be different and their need of jewelry has been transformed into personalized and diversified.

The Millennium generation is leading the change of jewelry market. When the consumer market tends to be diversified, the diversification of jewelry varieties and materials will emerge as the times require. 18K inlaid colored jewelry stands out. Because of exquisite craftsmanship, rich color and elegant style, it has become a new favorite pursued by many fashion women.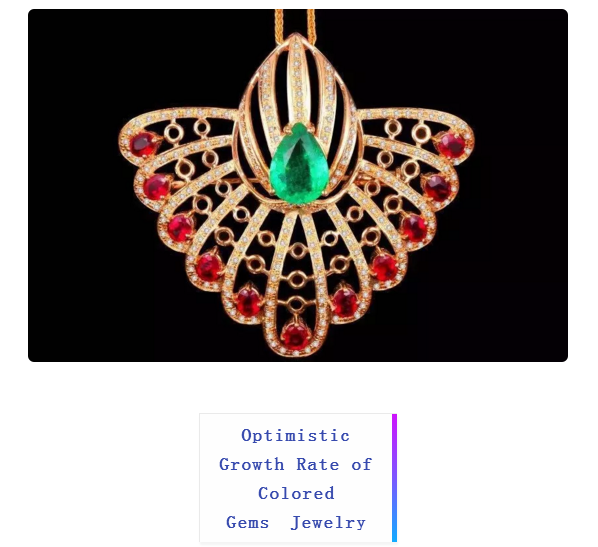 Colored gemstone, as a fashion darling in recent years, its market has grown from 20 billion RMB in 2013 to 31.86 billion RMB in 2017, with an annual compound growth rate of about 12.3%. More and more jewelry brands in the market have opened up the product line of colored gemstones, or added colored gemstones to the design in order to pursue more unique design.
It is predicted that the size of the color gemstone jewelry market will continue to grow, and it is expected to grow to 53.08 billion RMB in 2022. The compound growth rate is expected to reach 10.7% in 2017-2022, which is optimistic.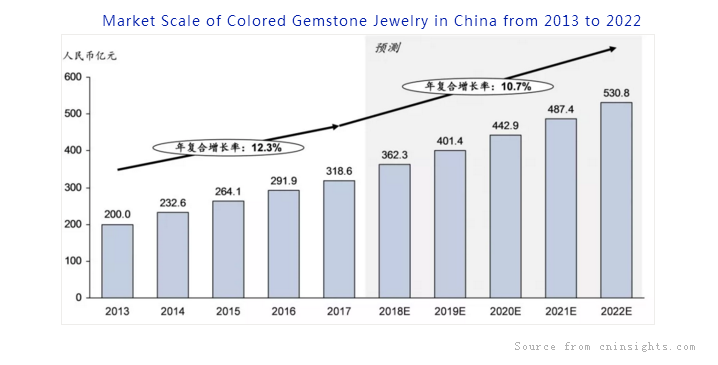 Shanghai is recognized as a world financial center, an international metropolis and a consumer center of luxury goods. The local jewelry retail industry in Shanghai is well developed, with annual sales accounting for one fifth of the country. In recent years, colored gemstones have shown strong competitiveness in the Shanghai market. Buyers have a high awareness of colored gemstones, and the buying group has gradually increased, which stimulates huge development potential of colored gemstone market. Undoubtedly, Shanghai is a good place for retail franchise, an ideal place for brand promotion, and a gathering place for classical jewelry consumers with high quality and strong consumption. All jewelry brands have unique business advantages here. In a word, wining the market in Shanghai means you will win the Chinese market.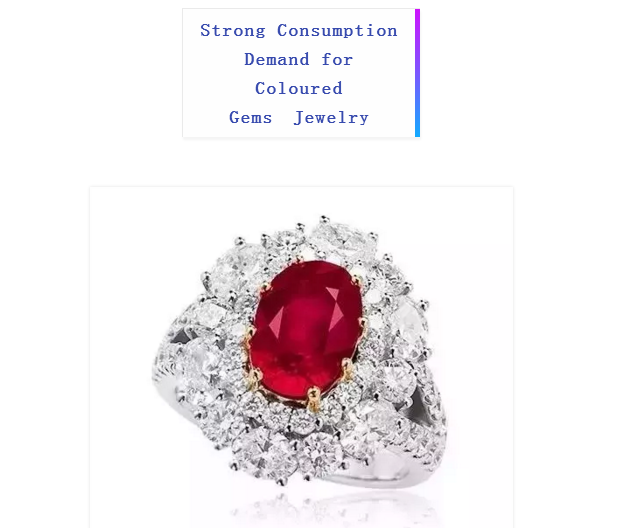 In the past few years, the price increase of colored gems prices has gradually made consumers feel stressful. It is understood that the overall price of colored gemstones products has risen by about 10% this year, the price of ruby and sapphire has risen by 10% to 15%, while the price of emerald, topaz, garnet and tourmaline has remained unchanged, and the price of crystal raw materials has risen by 20%. In the terminal market, the demand for high-grade products is strong, the sales of middle-grade products are still hot, and the sales of low-grade products are still on the market.(From China Gold Network)

At the past Shanghai International Jewelry Fair, there was a continuous flow of visitors in the colored jewelry exhibition area. Shanghai residents were very enthusiastic about colored gems. Many enthusiasts purchased colored gemstones for the purpose of investment and inheritance. They had a deep understanding of colored gemstones, and had a scientific collection concept of buying only precious gemstones.
On the exhibition site, both the purchase concept and the professional level are gradually in line with the international standards. Exhibitors are confident of the prospects of the colored gemstone market in Shanghai, and are always ready to meet the opportunities and challenges brought by the rapid development of the colored gemstone market.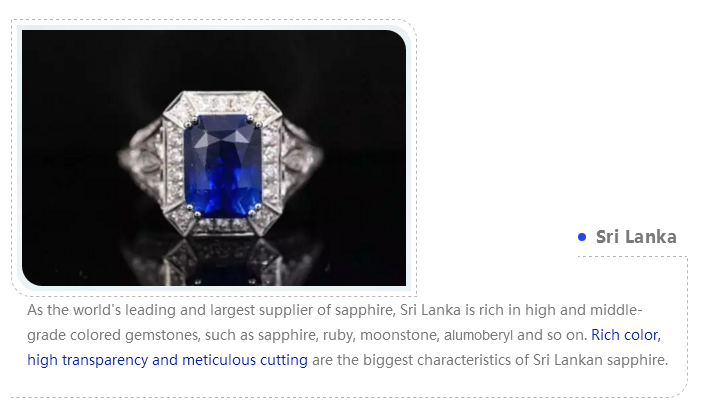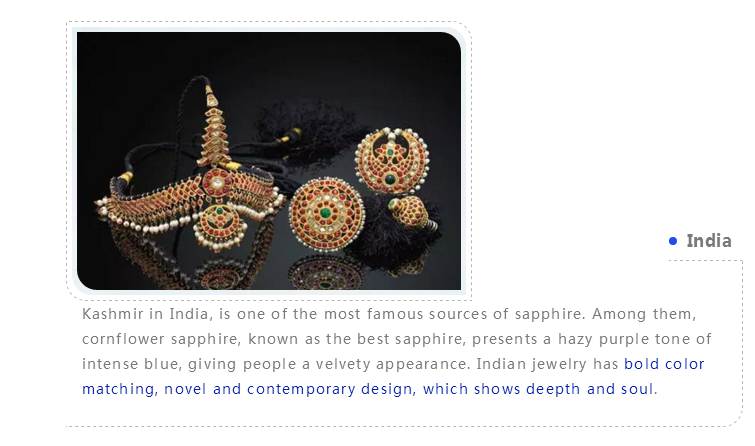 Fair Overview

Shanghai International Jewelry Fair 2019 is one of the largest international events in East China in summer, with the largest number of customers, the widest covering of area and the highest turnover. The fair gathers jewelry manufacturers from 22 countries and regions around the world, including 1,000 jewelry enterprises from Sri Lanka, Thailand, Myanmar, India, Australia, Poland, Italy, Pakistan, South Korea, China Taiwan and China Hong Kong, with an exhibition area of 20,000 square meters. The fair aims to build the most influential professional jewelry grand event in East China.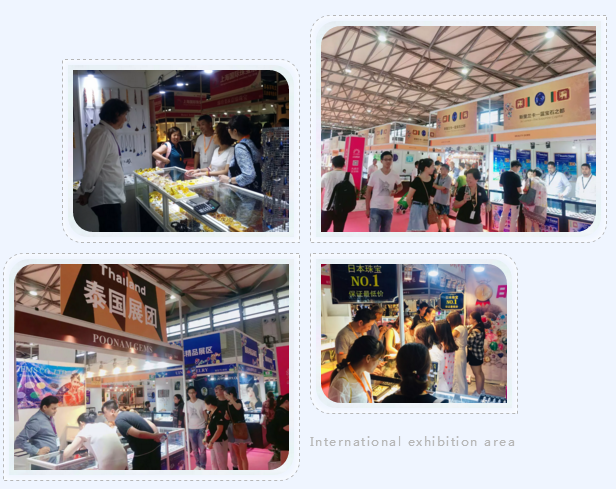 On August 15th, 2019, Haiming Group will gather prominent jewelry suppliers and retailers from all over the world to hold a high-profile jewelry event at the Shanghai New International Expo Center to create a truly high-end international jewelry exhibition.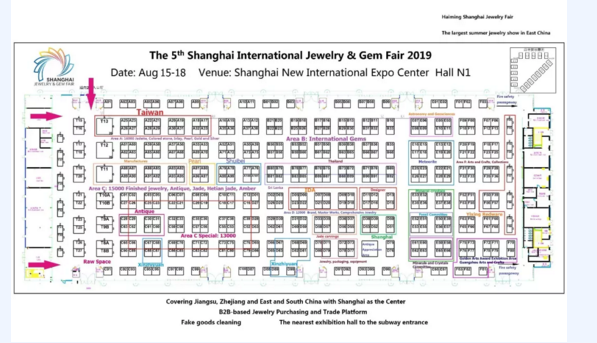 Shanghai International High-end Colored Gemstone Fair will last 4 days. This exhibition will show you Royal Sapphire/Ruby from Sri Lanka, Ruby from Thailand/Cat's Eye, Emerald from Colombia, Emerald from Brazil/Tourmaline/Aquamarine/Topaz, Opal from Australia, Kashmir Sapphire/Diamond/Spinel/Burn-free pigeon blood ruby in Mozambique and more high quality raw stones and fine finished products directly provided by overseas mining areas. It will bring a prosperous and dazzling jewelry visual feast to the audience.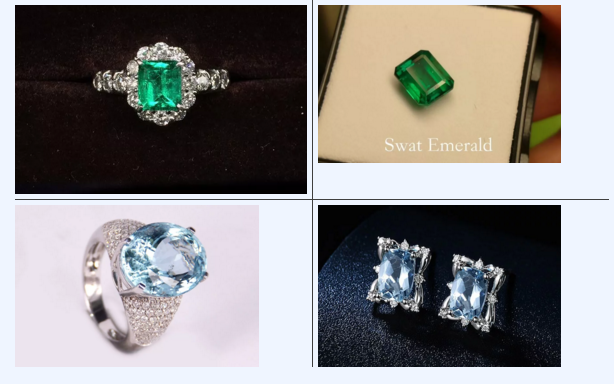 Shanghai is like a gemstone with both magnificent land and vast sea. After hundreds of years of changes, it is more dazzling. With the integration of Western culture, Shanghai is enchased as a magic city, which brings together jewelry industry people from all over the world to create their own legends.


Shanghai International High-end Colored Gemstons Fair
Sponsored by Haiming Group
Gathering high-end links in jewelry and colored jewelry industry chain.
It is our duty to disseminate and popularize colored gemstone culture and promote the healthy development the industry.
Building the most professional and efficient business platform
On August 15th-18th,
We will meet you in Shanghai!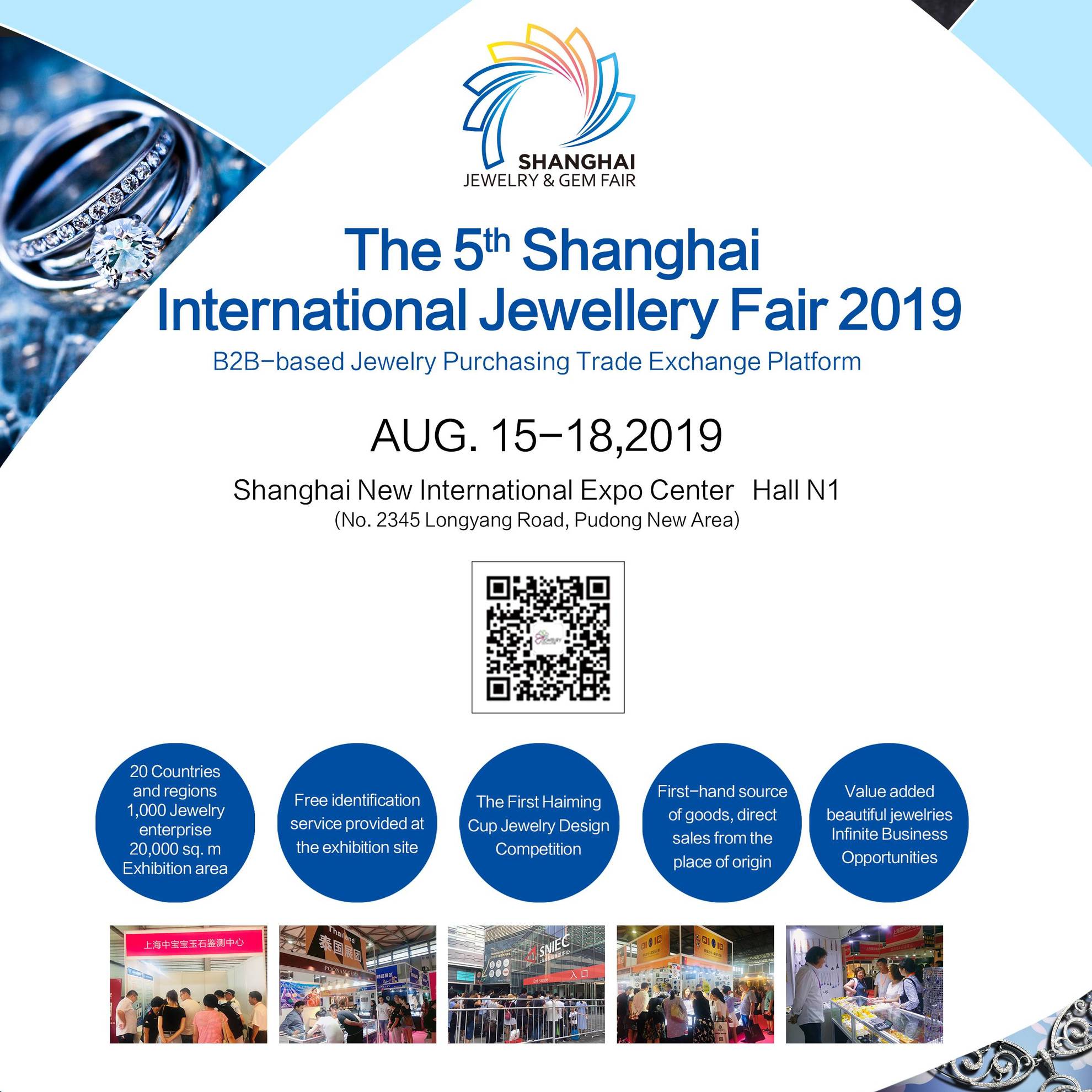 Countdown to the event
Days
Industry News
Related Links
Show Plan