Industry News
» 5 Questions for Jordan Alexander Jewelry Designer Theresa Harper Bruno
5 Questions for Jordan Alexander Jewelry Designer Theresa Harper Bruno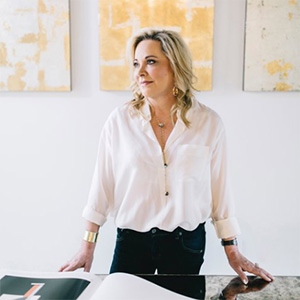 In 2013, Theresa Harper Bruno, founder and designer of the Jordan Alexander fine jewelry collection, debuted her first brick-and-mortar store in the Birmingham, Ala., suburb of Mountain Brook, where she lives and works.
And she's since expanded her vintage-inspired fine jewelry collection, which is full of pieces that feel like modern takes on decadent-and-historic royal jewels. The collection's taken off—and has been worn by celebrities and notables including Julia Roberts, Kristen Stewart, Pink, and Michelle Obama.
We asked Bruno, who once upon a time studied music at Juilliard, to answer our 5 Questions:

JCK: What drew you to jewelry design initially?
Theresa Harper Bruno: I was designing for myself. I grew up in an arts world. Jewelry design felt like a natural addition to music and visual arts. I got started on a dare. A friend dared me to go to a showroom in New York and see if I was any good. I met with Rachel Baritz and Janet Goldman at Fragments showroom, and the rest is history.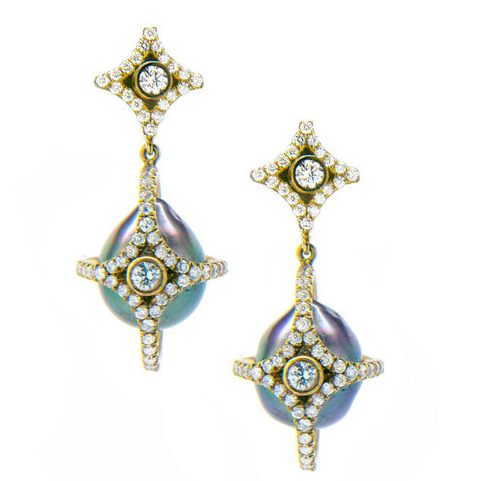 Jordan Alexander 18k Diamond Caged Baroque Tahitian Pearl drop earrings, $8,505
What inspires you as a designer?
Magazines, museums, art galleries, boutiques—getting out and seeing what's happening in the world of design! For me, design is storytelling. I bring the vision of a collection to life by creating an evocative story through color, texture, and shape that is full of adventure and soul. Each collection is an exploration of curiosity and experimentation.
How do you think your pieces fit into the lives of the people who wear them?
My clients are my biggest muse. I think it's about having a practicality and a reality of who the market is and who you'd love to attract—almost splitting your head like that. I try to design for the moment in time rather than succumbing to the pressures of what the industry is doing.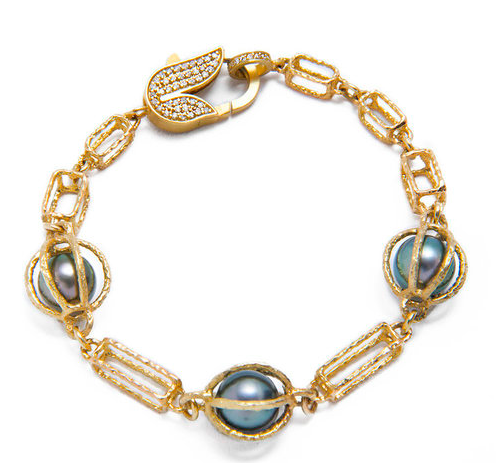 Jordan Alexander 18k gold Caged Pearl Box chain bracelet, $5,965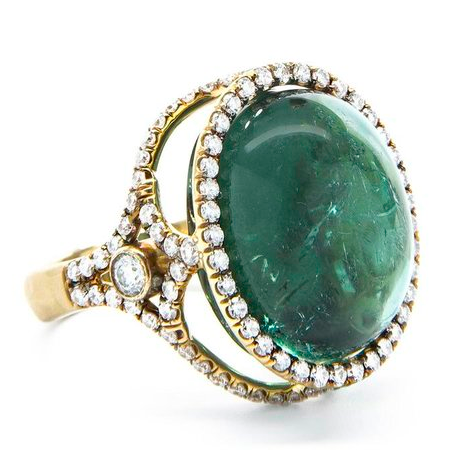 Jordan Alexander 18k gold and diamond Caged Green Tourmaline ring with double diamond row, $13,045
What are some of your favorite pieces you've ever made—and why?
The Cremé De La Cuff in 18k gold and diamonds: I distinctly remember my mother wearing a cuff on her right arm. It was a statement for the time, and as a child I felt the energy that exuded every time she put it on. A superhuman feeling that feeds my inspiration in the most nostalgic way. The way that oversize brass cuff graced her wrist and the light bouncing off of it as she turned the steering wheel driving me to my piano recitals.
What jewelry designers do you admire—and why?
Irene Neuwirth for her play with color. Gurhan for beautiful gold. Verdura and Hemmerle for classic brilliance in design.



source: https://www.jckonline.com/editorial-article/5-questions-theresa-harper-bruno/
Countdown to the event
Days
Industry News
Related Links
Show Plan