Shanghai International Jewelry Fair 2017
Aug. 17th-20th, 2017
Shanghai New International Expo Center
No.2345, Longyang Road, Shanghai Pudong New Area
【Exhibition Background】
2016 Shanghai International Jewelry Fair was held in Hall N1 in Shanghai New International Expo Center on August 17-21. This jewelry fair has massive scale of luxury international exhibition groups, domestic classic jewelry dealers and high quality jewelry manufactures up to about
300 booths. The exhibition area even reached 20,000 square meters which is unparalleled in Shanghai, attracting over 40,000 buyers and visitors, dealing with the transaction amount of about hundred million RMB.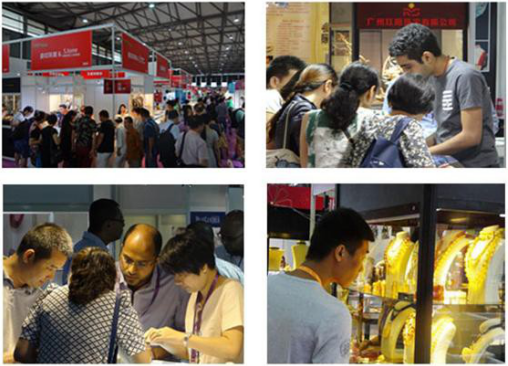 Shanghai International Jewelry Fair 2017 will meet with visitors and buyers of East China Jewelry Industry in Shanghai New International Expo Center and invite gem and jewelry exhibitors of high quality from more than 20 countries and regions.
【Organization】
Sponsor: Asian Economic Trade Promotion Center Organizer: Shanghai Haizhong Exhibition Service Co., Ltd Co-organizers:
China International Gemstone and Jade Association Gems & Jewelry Trade Association of Shandong Taiwan Jewelry Magazine
Hong Kong Donggang International Exhibition Co., Ltd
【Exhibition Preface】
Shanghai International Jewelry Fair is praised as Classic Jewelry Fair among Shanghai Jewelry Industry, impacting the whole South China. Here we provide all the jewelers with a platform of high-quality. We not only have high standard in the quality of exhibits, but also in the aspect of visitors, try our best to invite professional buyers to construct classic jewelry fair in Shanghai area jointly.
【Exhibition Positioning】
We devote ourselves to create the No.1 Jewelry Fair in Summer of East China. Locate in the most prosperous economic center in east China, Shanghai fashion consume industry has become the optimal place, and exhibitors will acquire powerful brand promotion here.
Shanghai International Jewelry Fair 2017 will form the trend of international exhibition group further. Under the support of international well-known jewelry exhibition group such as America, Poland, Sri Lanka and Thailand, we will step in to the internationalization further. The territory of Europe and America jewelers will become our developing target.

【Exhibits Scope】
Diamond and Gemstone:
Diamonds, Ruby, Sapphire, Emerald, Semi-precious stone, Synthetic gem stone, Crystal, Tourmaline
Fine Jewelry:
Platinum Jewelry, Gold Jewelry, Silver, Karat Gold, Palladium Jewelry, Diamond Jewelry, Gemstone Jewelry, Mosaic Jewelry, Imitation Jewelry, Gild Jewelry, Pearl Jewelry, Jade Jewelry.
Pearl and Coral:
Coral, Coral Treasure, Coral Accessories
Jade:
Jadeite, Hetian Jade, Shoushan Stone, Blood Stone, Qingtian Stone, Balin
Stone, Xiuyan Stone
Equipment Instrument:
Jewelry Processing Equipment, Jewelry Tools, Testing Equipment, Cleaning Equipment, Management Software, Display and Package Supplies
Fashion Ornament :
Artificial Stones, Metal Jewelry, Accessories, Stainless Steel Jewelry
【Exhibition Propaganda】
1.TV Media
The local popular TV media such as Dragon TV, Shanghai Comprehensive News Channel, Entertainment Channel, Channel of Finance and Economics has relative advertisement in the whole day. The advertisement in news, fashion consume and public life programs let the Shanghai citizen know our exhibition through the most popular TV program and will report before, during and after our exhibition.
2.Newspaper Media
Various local well-known newspaper media in Shanghai join the propaganda and will show people the advertisement in the form of both words and pictures. The information will cover the whole area of Shanghai and will deliver to each subscriber accurately.
3.Network Media
China's four big web portals record the news report, domestic well-known internet search engines do promotion, famous fashion consume website and local website report the spectacular event on site. Sina Weibo, Wechat, Headlines Today and other APP cooperate with the live broadcast comprehensively.
4.VIP Exclusive Invitation
Professional visit to the professional market in East China, Zhejiang, Jiangsu, Shanghai jewelry cluster area are fully covered through the introduction of industry information, delivery of professional invitations,
etc., to invite the visitors and buyer to visit and to discuss cooperation matters.
Professional SMS invitation provide convenient information informed sources for the target customers in the industry and bring the optimal convenient visiting process, visiting highlights and visiting the event. Professional and accurate email invitations, according to the demand of professional visitors, send email invitations in different periods of professional on site and provide the most convenient HTML mail to help them understand the situation of the exhibition.
Professional customer service call invitation, according to many years of industry research market, invite the professional buyers 1 to 1. For your convenient service, the unified phone number 4006053208 accepts national advisory.
5. Outdoor Advertising Media
In the east of China, Jiangsu and Zhejiang Provinces' two key jewelry cluster area are put in large-scale outdoor advertising, training jewelry exhibition awareness for people here. Shanghai local cooperation Jewelry Cities take in everything in glance of the exhibition information at a glance, during the exhibition period, around the exhibition hall will be covered by the outdoor advertising, road flags, etc.
6. Metro Advertisement Media
Whole metro carriage advertising, part of the subway tunnel advertising, the full coverage of the subway station, the full spread of the exhibition news, provide the best spread opportunity for the waiting time and travel time.
7. Industry Association Propaganda
Invite east China jewelry industry association delegation group to visit our exhibition, the industrial exhibition group visitors provide professional atmosphere for the exhibition. Association will use own propaganda platform to assist releasing exhibition information in authority, sending invitations to the professional visiting group to contribute to more cooperation between exhibitors and association to form the co-prosperity of jewelry and industry leaders.
【On-site Assurance】
Free Identification & Quality Assurance——Shanghai Jewelry Cultural Authority Institution will give on-site identification free of charge, helps to eliminate fake and secure high-quality of our exhibition.
Wonderful Sections & Splendid Activities——In Shanghai International Jewelry Fair, there are various activities, such as cultural communication of jewelry knowledge, jewelry industry trend prediction and model show of jewelry wearing!
Satisfactions from both visitors and exhibitors——We listen to the voice of every visitor and exhibitor, ask about their willingness to join, and assure their mutual benefits in participating in jewelry fairs.
Elite Team & Professional Operation——We have elite team with over
10 years of experience in managing exhibitions in Shanghai, Beijing, Guangzhou, Qingdao, Jinan and Hangzhou. Meanwhile, we opened up free hotline 4006-0532-08 and online reservation system http://english.hmjewelryfair.cn/ in order to make your participation more convenient.
Countdown to the event
Days
Industry News
Related Links
Show Plan