https://mp.weixin.qq.
Coronavirus in Wuhan is still the focus of attention. What can we do when facing this raging epidemic? Wear masks, wash hands frequently, reduce the time to hang out and ventilate more. This is not just a campaign of the people of Wuhan, but is a campaign of the people of the whole country.


Isolate the virus, but not love. At this moment, Haiming jewelry exhibition has begun to take action.
Charitable donations proposal
Dear exhibitors and visitors:
At the time of national disaster, as an exhibition enterprise with social responsibility, Haiming International Exhibition Group has always paid close attention to the development of the epidemic situation and the safety of the people in Hubei. We will practice the corporate brand responsibility, contribute our strength to eliminate the epidemic.
Haiming Jewelry Fair is actively contacting our business partners from Sri Lanka, Thailand, Poland, Myanmar, Pakistan, Japan, South Korea and other international customer resources to seek global procurement channels for medical materials. We hope to call on people of benevolence in the jewelry industry to donate medical and health supplies to key hospitals and front-line medical staff in Hubei Province. I hope you all make a contribution to help and support Wuhan.
Haiming Jewelry Fair
Feb 8th, 2020
A spark can also gather into a beam of light
Even if you and me are just one of numerous living beings
Even if our power is not so strong
But just a little love
and a small move
Can make a huge impact
We hope that all medical staff and journalists fighting in the front line will be safe and sound. We hope all of them will return healthily with victory!
Paying tribute to all the people fighting on the front lines of the battle!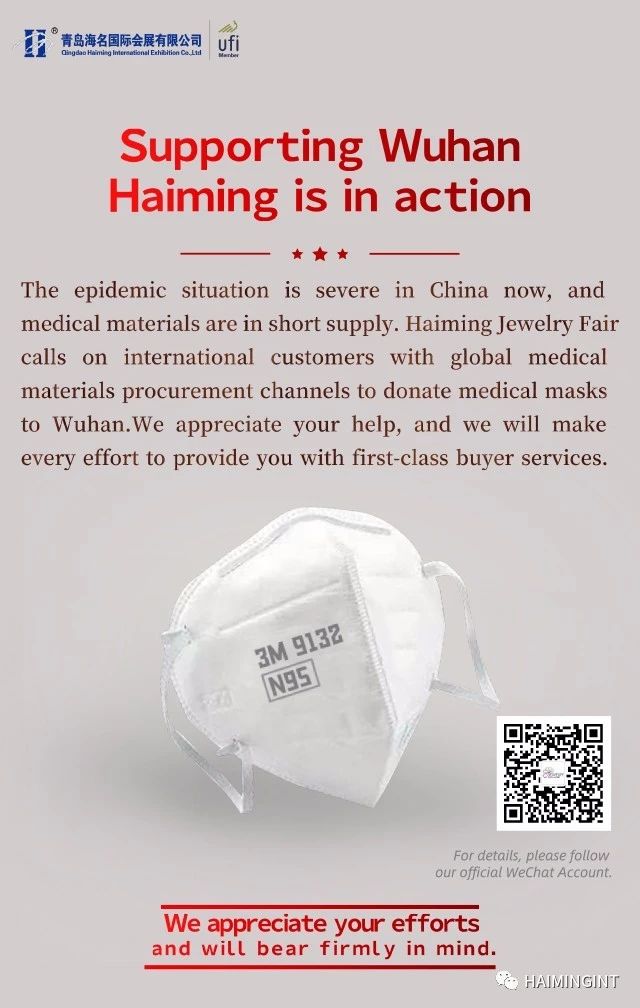 com/s/IbEIg3tUbKadMCtUxuZszA

Countdown to the event
Days
Industry News
Related Links
Show Plan