Exhibition News
» Precise & efficient, Beijing International Jewelry Fair is ready
Precise & efficient, Beijing International Jewelry Fair is ready
Beijing International Jewelry, Mineral and Gems Fair 2019 will be held at China International Exhibition Center from December 13th to 16th. At the same time, Beijing International Mineral, Fossil and Meteorite Science Fair 2019 and Redware and Ceramic Culture and Art Festival will open to the public. The promotion and publicity through online and offline channels will be in full swing. The organizer also prepared exquisite visiting gifts for visitors.

In order to better welcome the opening of this jewelry feast and further promote the exchange and negotiation between exhibitors and the audience, the organizing committee spared no effort in inviting professional buyers this year, increased the invitation of professional buyers, and made unprecedented publicity, laying a solid foundation for the invitation. The number of professional buyers pre-registered at present is much higher than last year.
TV ads in an all-round way
Beijing TV financial channels comprehensively follow up the exhibition trends, combing sound and image to strengthen promotion.
AD7 comprehensive publication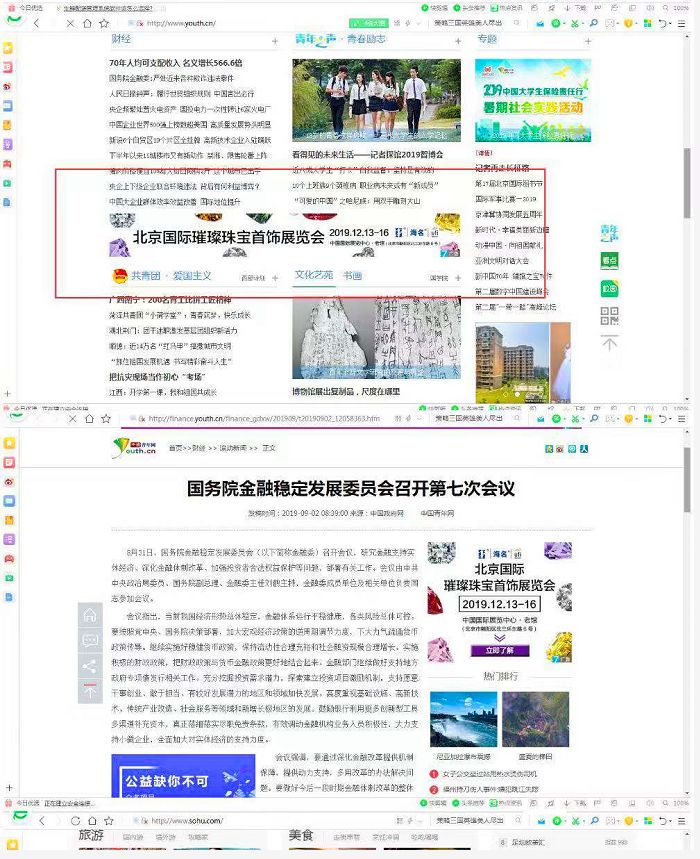 Ad7 on website is fully launched and promoted (covering 30,000 online media in real time, reaching over 50 million business people, and 8 million enterprises) to display more than 50,000 advertisements every day. Sohu, people.com, Tencent, Tudou, Xinhuanet, Fengxing, ce.cn and other online media forward fair information.

The exhibition information is presented on Baidu's home page, covering hundreds of millions of user groups and massive high-quality content. With the help of big data, user demand orientation, intelligent delivery and other technologies, Baidu accurately pushes advertisements to high potential users. Baidu information flow with search promotion, comprehensively upgrades marketing, enhances users effect.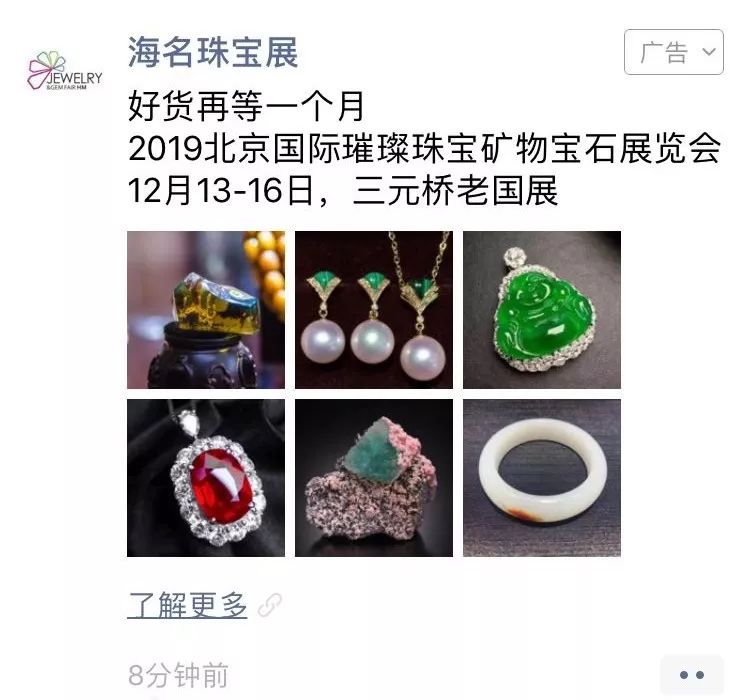 Wechat ads have been exposed fot tens of millions of times, and the theme of the exhibition has been refined, covering professional jewelry and antique cities, business circle, and the regions surrounding the exhibition hall, so as to accurately locate the middle and high-end consumers who are interested in jewelry, jade, mineral and crystal, and fine arts and crafts.

With huge popularity and brand communication power, we can accurately lock in the young and fashionable personalized buyers, so that the information of jewelry exhibition can get more breakthrough and continuous exposure on the Tik Tok.
Covering nearly one thousand high-end quality communities, business circles and professional markets in Beijing, we target high net worth people precisely, continue to build the brand effect of the exhibition, focuse on improving the purchasing power of the exhibition and inviting high-end buyers to visit and purchase.

Pre-exhibition activities
There are 60 soft articles on the offcial website homepage, Weibo and activity information communication channels of Haiming jewelry exhibition.
Haiming accumulated audience data through 19 years of exhibition, the professional exhibition investment promotion team distributed tens of thousands of invitation letters, VIP SMS invitations before the exhibition for many times, and sent one-to-one SMS in groups to 5 million audience database! Haiming aims to build the brand effect of the exhibition, focus on improving the purchasing power of the exhibition, and invite high-end buyers to visit and purchase.
Buyers are more important than everything. Buyers are the vitality of the exhibition,
Haiming has strong determination and attitude to the brand building of the exhibition.
Dec 13-16, 2019
China International Exhibition Center
Self-Driving: Driving forward along Sanhuan Road, turning left at the crossing of Sanyuan Xi Bridge.
From Beijing Capital Airport:
By Bus: - Taking bus Mini20 from Jing'an Zhuang to the capital airport.
-Taking airport shuttle from airport to San Yuan Qiao stop, then transferring by Bus No. 300, Bus No.830 to Jing'an Zhuang.
-By Taxi: About¥50 from airport to CIEC.
Self-driving: To Beisan Huan East road from the south-east direction, then driving straightly along airport high speed. The distance is about 16 kilometers.
By bus: Taking bus No. 966 from the center. (Origin: Dongzhimen Stop-Terminal: Pingxifu Stop)
-Taking metro from Beijing station to Yonghe palace stop, then transferring by bus No.606 to CIEC.
-By Taxi: About ¥25 from Beijing station to CIEC.
From Beijing West Railway Station: nearly 15.22 kilometers
By Bus: Taking bus to the Dongzhimen metro stop, then to Beijing Station.
-Taking bus No. 387 from Beijing West Railway Station to Bei Taiping Zhuang, then transferring by bus No. 300 or air conditioned bus No. 830, bus No. 730, No. 731 to Jing'an Zhuang.
-By Taxi: About ¥40 from Beijing West Railway Station to CIEC.
Countdown to the event
Days
Industry News
Related Links
Show Plan